What's On?
What's on in the coming weeks and months in the village? Local activities, entertainment, meetings, and groups.
There's something for almost everyone. Join in; make new friends, or just enjoy the relaxing social atmosphere.
FOLK NIGHT
1st WEDNESDAY each month.
Next Date: Wednesday 1st December 2021 – In the village hall. the new car park is also open.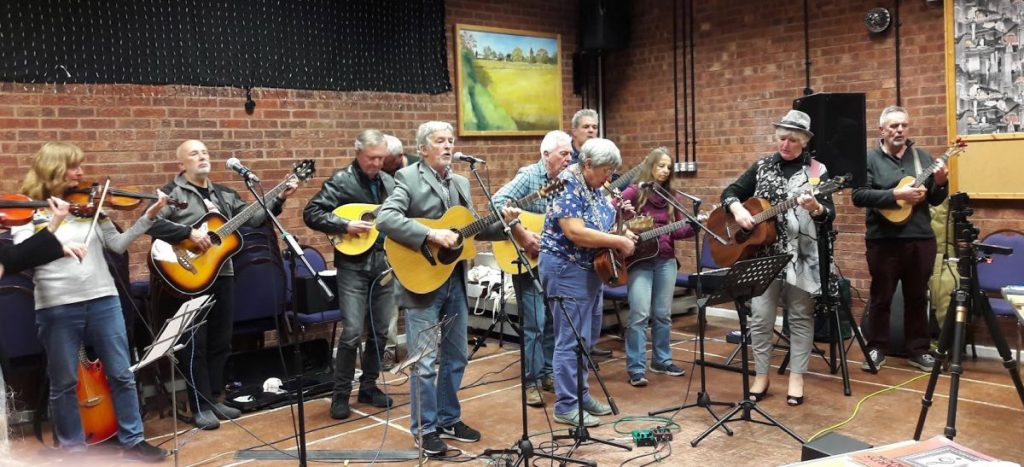 Each month we enjoy an excellent attendance. Every player has the chance to play two or three numbers and the evening usually opens and finishes with some rousing songs.
Now we look forward to welcoming you all to the next Folk Night. Doors open at Moggerhanger Village Hall as usual at 7 :15pm and music starts about 8 pm. You have the chance to come early, get yourself a drink and chat to friends. So please come along—all are welcome to sing, play, listen—or all three. Entrance is free and there will be a raffle.
As always we're ready to get the show on the road along with our regular team of volunteers who help set up the room, run the raffle and serve behind the bar. It's all systems go for another good evening.
KEEP FIT
Every Tuesday morning at 9-30 to 10-30 in the Village Hall.
Now meeting again with some recommended restrictions – going very well and is very beneficial to those who attend regularly. Get fit, stay motivated, make friends and have fun. Just £5 per person. More information from Tony and Judith Mooney 640124.
COUNCILLOR SURGERIES
Frank Firth, our elected Councillor holds regular surgeries in the playing field Pavilion for residents to come and chat, ask questions or raise their concerns. The second Saturday each month. No appointment needed.
Next surgery 11th December 10-11am
Please wear a face mask.
BENEFICE CHOIR PRACTICE
The dates for the December Choir Practice are:
December 1st at Willington, Dec. 8th at Cople, Dec. 15th at Willington, Dec 22nd at Cople. All at 9:30am. New members always welcome – contact Shirley Jones through cmwbeneficeoffice@gmail.com
MEETING PLACE AT ST JOHN'S CHURCH
Lunch Club: Temporarily suspended.

Coffee Morning: Tuesday 7th December at 10:30am in the church.
Come and enjoy a relaxing time with good refreshments and friendship.
MOGGERHANGER AFTERNOON TEA

24th September This was a joint effort organised by the Village Hall and St. John the Evangelist Church and was a great success.
We think there were around 50 people in the hall and we raised £130 which was shared by the Village Hall and the Church.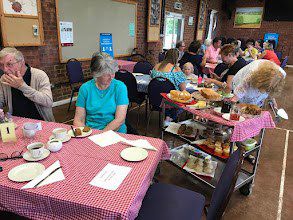 This was not intended to be a money raising afternoon but a chance to get together over a cup of tea and some cake. Huge thanks must go to all those who made cakes, scones and jam, thank you to those who attended and we hope you enjoyed it.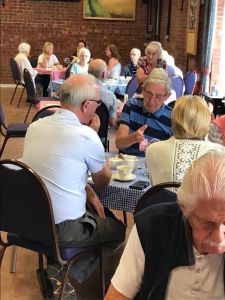 Also thanks to the wonderful team who tackled the mountain of washing up, clearing and cleaning tables and generally helping out. What a village eh!!
Watch out for details of our next joint venture in your
village magazine and on this website "What's On" page.
WALKING GROUP
This group is suspended temporarily.
Advance Notice – Cabaret Night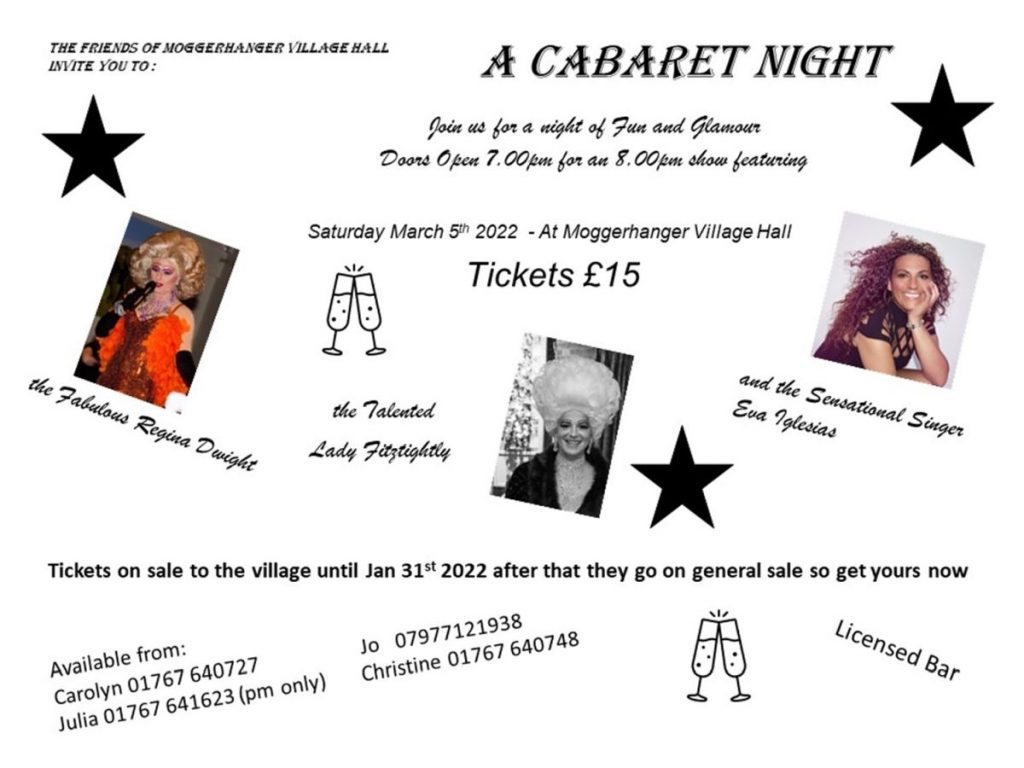 REFUSE COLLECTIONS DECEMBER
Black Bins :Wednesday 1st 15th & 29th
Recycling Bins: Wednesday 8th & 22nd
Brown Food Bins: Every Wednesday
No Garden Waste collections until further notice.
FRIENDS OF MOGGERHANGER PRIMARY SCHOOL (FOMPS)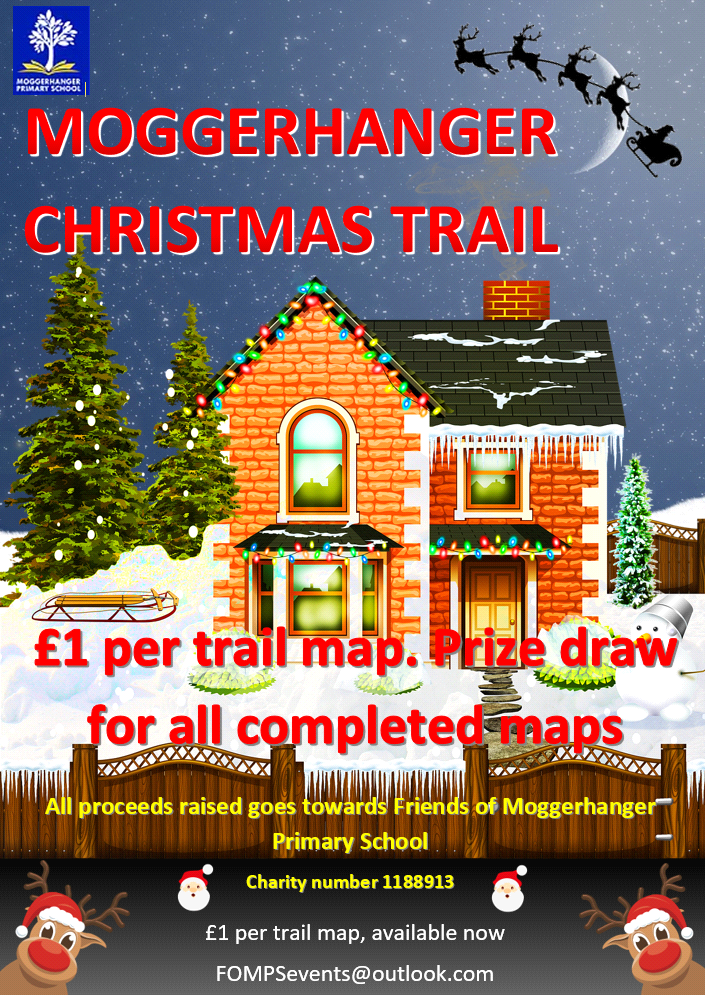 Friends of Moggerhanger Primary School will be holding a village Christmas trail from 13th December 2021 – 1st January 2022, and we would like to invite you to take part with us.
We would love you to decorate your house in any way you like for the children to find. We will supply you with a poster to display for the children to walk past and easily see on the trail.
Please email FOMPsevents@outlook.com by 5th December 2021 to register your interest in the event with any Christmas decoration or display to be put up before the end of school on 13th December 2021.
We would like to thank you in anticipation for all of your efforts at this time so our children can enjoy the village of Moggerhanger.