What's On?
What's on in the coming weeks and months in the village? Local activities, entertainment, meetings, and groups.
There's something for almost everyone. Join in; make new friends, or just enjoy the relaxing social atmosphere.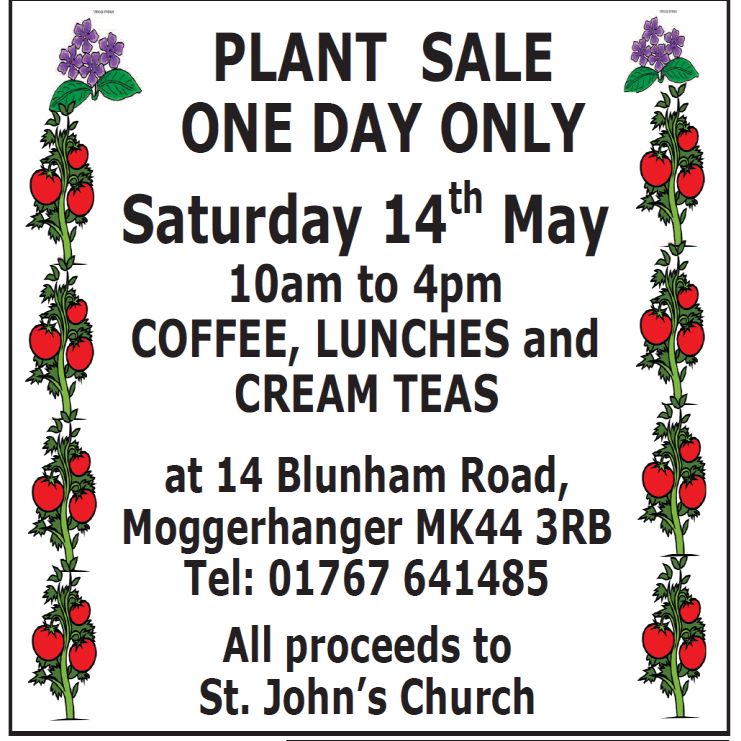 FOLK NIGHT
1st WEDNESDAY each month.
Next Date: Wednesday 4th May In the village hall.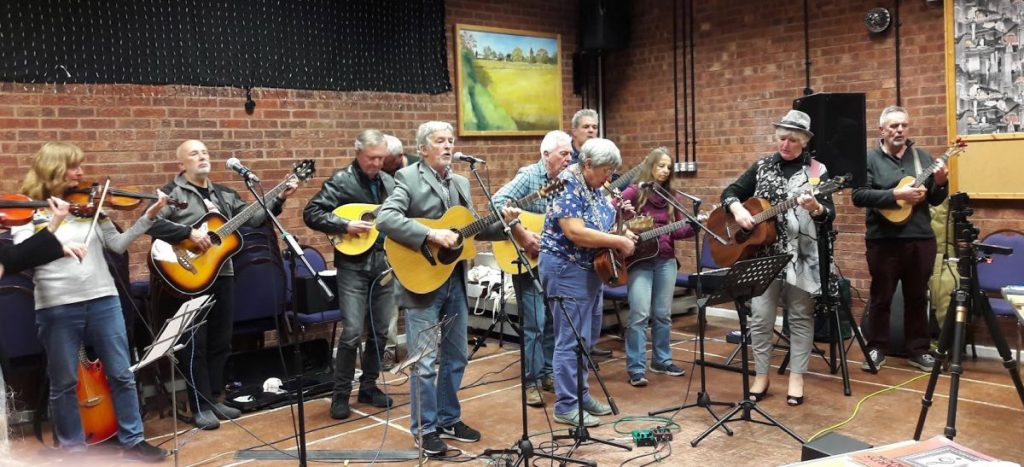 Each month we enjoy an excellent attendance. Every player has the chance to play two or three numbers and the evening usually opens and finishes with some rousing songs.
Now we look forward to welcoming you all to the next Folk Night. Doors open at Moggerhanger Village Hall as usual at 7 :15pm and music starts about 8 pm. You have the chance to come early, get yourself a drink and chat to friends. So please come along—all are welcome to sing, play, listen—or all three. Entrance is free and there will be a raffle.
As always we're ready to get the show on the road along with our regular team of volunteers who help set up the room, run the raffle and serve behind the bar. It's all systems go for another good evening.
The December Folk Night was a brilliant evening with all Covid precautions being adhered to but that did not stop everyone enjoying an entertaining (if a bit chilly) evening. As we were not
allowed to sing we were all provided with a variety of musical shakers and bells so we could join in—thanks to those who came early and stayed late to help with the clearing up—
much appreciated.
MOGGERHANGER PARK – AN UPDATE
A few months ago, there was an article in this magazine about the re-opening of Moggerhanger Park. We have now firmed up on our plans and thought that you would like an update.
Moggerhanger Park is owned by the Moggerhanger House Preservation Trust, whose aims are to preserve the House and Park for the benefit of the residents of Bedford and the nation as a whole and to advance the Christian religion.
Quite simply, in order to achieve the first of these aims, we need to generate enough income to paythe running costs of remaining open (about £10,000 a month). We are focusing on two main income streams.
The first is promoting the Park as a destination for day visitors. Entry to the Park is free, but the Tearoom contributes to the costs of maintaining the House and we are now restarting our popular House Tours, which give a fascinating insight into the history of the House and the families that have lived there.
Tim Kirk, our Head Gardener, and Estate Manager has already made great strides in restoring the Walled Garden, and this year will see a return of our annual plant fair and an additional dedicated area for selling plants and gifts throughout the year. Now that the Trust has acquired Park Farm and Bottom Wood, we are planning to introduce longer woodland walks that will effectively double the size of the park to attract more visitors.
One unusual feature is that visitors from further afield can stay overnight in one of our 22 bedrooms and experience first-hand what it is like to live in a stately home. Unfortunately, the Tearoom and House Tours do not bring enough income alone to maintain the park, so, while entry to the Park will remain free, you will see additional notices in future requesting donations and promotional information to join the Friends of Moggerhanger Park scheme.
Our other main income stream is conferences, workshops, and retreats, with 22 bedrooms and state rooms capable of seating up to about 70 people. The House is an ideal venue for both Christian and other retreats. Bear us in mind if you know of any organisation that wants to spend a few days away from it all, perhaps for creative
inspiration or to determine future strategies in a tranquil setting.
If you would like to get more involved with this amazing resource on our doorstep there are plenty of opportunities for volunteering, or even paid work (especially if you are a chef!). Tim always welcomes more help in the gardens , and we would welcome volunteers to help conduct House Tours. You would be especially welcome if you have any specialist skills in areas like marketing or maintenance. Please
email enquiries@moggerhangerpark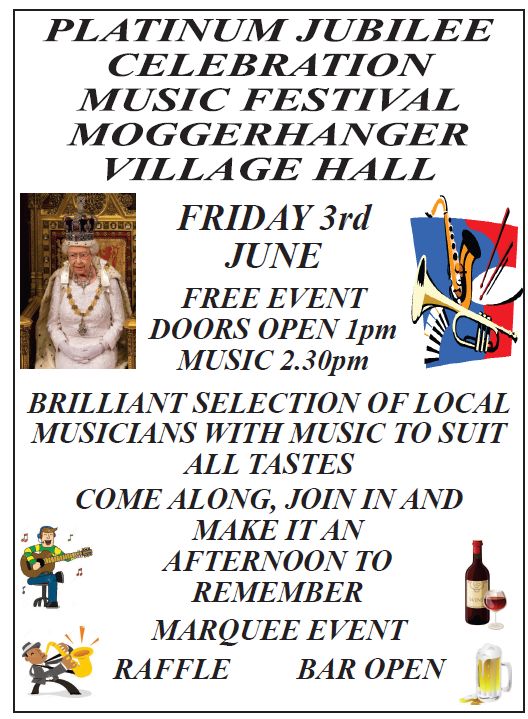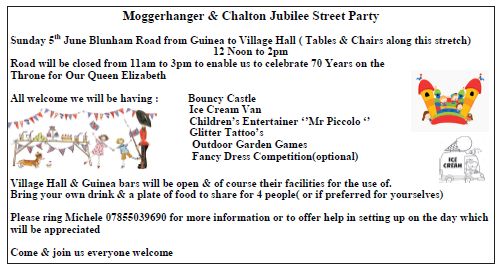 MOGGERHANGER AND CHALTON QUEEN'S
PLATINUM JUBILEE
CELEBRATIONS CALENDAR
Come along and learn the Commonwealth Song
"SING ALONG WITH US"
We do hope that you have put June 2nd into your diary, and will be able to come to Moggerhanger Park for the lighting of our Beacon at 9.45pm and the singing of the Song for the Commonwealth.
Too late for the children? Well no, as we have four days' holiday and they can sleep in!!
There are four chances to learn our song on:
Monday 16 May at Cople Church: Tuesday 17 May at Willington Church:
Wednesday 18 May at Moggerhanger Church.
The churches will be open at 6.45pm, we will sing at 7pm and be home before 8pm. Do please make the effort to come along to one of these sessions, and collect a copy of the words.
Gwynneth Akins is also taking a rehearsal on Sunday 29 May at 11.45am after the service at Willington Methodist Chapel. Choose which day is most convenient for you or come to all of them if you want to!!
If you want to listen to the song beforehand, or want to have your own copy of the words, try this link:
https://www.commonwealthresounds.com/projects/the-queens-platinum-jubilee/a-song-for-the-commonwealth/
Everyone is welcome. Shirley Jones
JUNE THE SECOND
We are so happy to be part of the Commonwealth Celebrations for the Queen's Platinum Jubilee, along with many other choirs across the UK and Commonwealth.
This is a Historical occasion, children in the future will read about it in their history books, so you'll need a flag to wave on the evening, your copy of the song and a torch.

Moggerhanger Park will be open from 6.30pm. There will be bands playing between 7pm and 8pm, while you can enjoy a drink from the bar, or a juicy morsel from the Barbecue. There'll be Face Painting for the children, as well as a Bouncy Castle, and Dance music in the Courtyard from 8.30pm until 9pm and again, at the end of the evening.

Please note that while there is no charge for admission, we will all need a ticket to get into the Park. You should apply on their web-site www.moggerhangerpark.com where there are further details about the Event.
From 9.30pm we join with the other Commonwealth countries, and all parts of the British Isles in paying respects to our Queen. Our Master of Ceremonies will introduce the Fanfare, The Earl of Erroll will light the Beacon, and we will sing the special song we have learnt.
After The National Anthem, the Master of Ceremonies will lead us in three cheers for Her Majesty, you can applaud, wave your flags, listen to some more music, buy the last sausage on the Barbecue, and then we'll make our ways home safely. Gates will be closed at 11pm.
Finally . . . Please take ALL litter home with you. "Leave nothing but your footprints, Take nothing but memories of a remarkable occasion
in which YOU took part ."
So, looking forward to spending a lovely evening with you all.
Shirley Jones
KEEP FIT
Every Tuesday morning at 9-30 to 10-30 in the Village Hall.
Now meeting again with some recommended restrictions – going very well and is very beneficial to those who attend regularly. Get fit, stay motivated, make friends and have fun. Just £5 per person. More information from Tina 07952 648682
BENEFICE CHOIR PRACTICE
The dates for the March Choir Practices are:
May 4th at Willington, 11th at Cople, 23rd at Willington, 25th at Willington. All at 9:30am. New members always welcome – contact Shirley Jones through cmwbeneficeoffice@gmail.com
MOGGERHANGER COFFEE MORNINGS

FirstTuesday each month at 10:30am in the church.
Come and enjoy a relaxing time with good refreshments and friendship.
3rd May; 7th June; 5th July; 2nd August.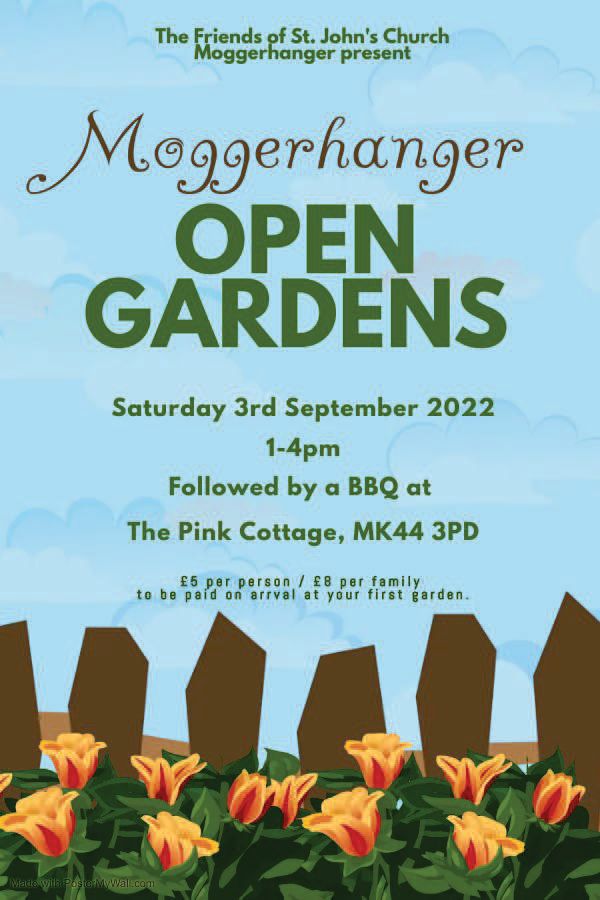 Save the date!
The Friends of St John's Church Moggerhanger are looking forward to running Moggerhanger Open Gardens on Saturday 3rd September.
This will raise vital funds to help maintain the building of our beautiful village church. A map will be produced of participating gardens, allowing you to explore previously unseen parts of the village at your leisure during the afternoon.
At the end of the event, everyone will be welcomed to the garden
of The Pink Cottage B&B, 64-66 Blunham Rd, MK44 3PD for a village BBQ.
It would be wonderful to have as many households and gardens participating as possible and there's no pressure to look like a Chelsea Festival exhibit! Some gardens may be beautifully planted, others may offer something else e.g. refreshments, afternoon teas, children's activities, a space for a natter, etc. It's free to open your garden and providing activities is totally optional.
If you would like to open your garden, please let Dorothy know by 31st May via dorothy@mainlinksystems.co.uk so that we can add you to the map.