Folk Nights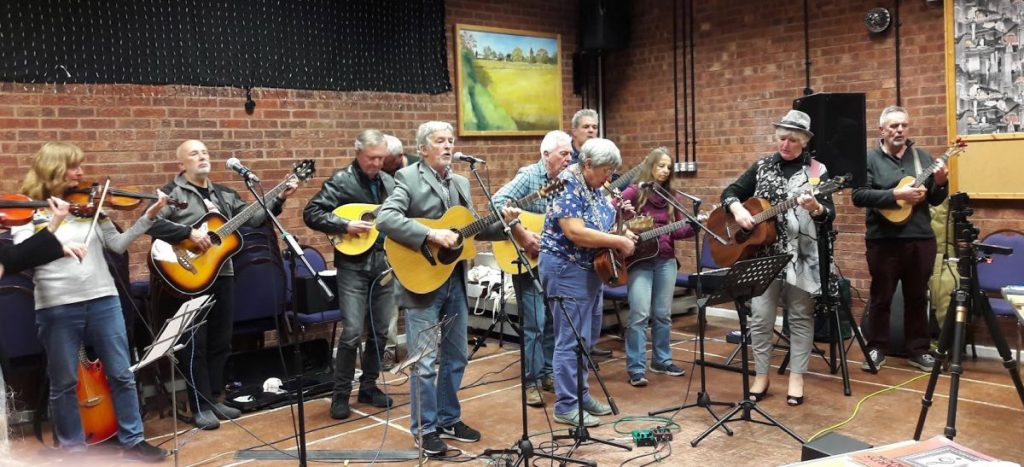 MOGGERHANGER FOLK NIGHT October 2021

What a wonderful evening on Wednesday 6th October when we held our first live folk night since 2020. The new layout worked very well and everyone seemed so pleased to be back. The musicians were, as usual, brilliant, and the evening was so well organised by Richard and Brian, supervised by Dorothy we are sure! Well done everyone, it was a marvelous effort and all the planning and hard work was much appreciated.
Next date Wednesday 5th January Cancelled as a Covid precaution See note below for an online version. Time: 7.15pm (doors open) for 8pm when music starts. Subject to any new Covid advice or restrictions.
We're delighted to announce that there WILL be a Folk Night in December! After a review of the safety measures at the Village Hall, we are happy that we can put on the event in a Covid-secure way within the guidelines.
The bar will be open and there will be a raffle.
Setting up of the hall will take place from 6.15pm so anyone available to help with tables and chairs would be most welcome. In addition, The Village Hall volunteers would appreciate help with wiping down and putting away when we finish. If you can help with setting up and/or putting away please would you let Linda Heath know (see her email address above). Thank you very much.
The car park is now operational with the lighting in place so please park off the road if you can. Of course those bringing equipment and/or instruments can use the front car park as before. Also anyone who has difficulty walking.
Brian has done it again – see his good news message below:
No live music – never mind we have plenty in the can… As I was walking round the Lodge this morning, I was thinking that we have enough good music in the can to give a little therapy to the Moggerhanger audience. I decided to pull together the ensemble pieces that we recorded while "locked down" into a video and I have now posted it on my website here:-
http://www.brianreidphotographer.co.uk/Blog/Entries/2022/1/5_Moggerhanger_Ensemble_Collection.html
Not as good as a live session but something to enjoy nonetheless.
Enjoy,
Brian
Folk Nights are organised by the village hall committee and raffle/bar profits are used to support the village hall.