MOGGERHANGER VILLAGE HALL
Blunham Road, Moggerhanger, MK44 3RB. Charity Number: 256331
The village hall offers a modern attractive venue and excellent facilities for many different types of use. It serves the village very well, thanks to a very active committee and dedicated Trustees.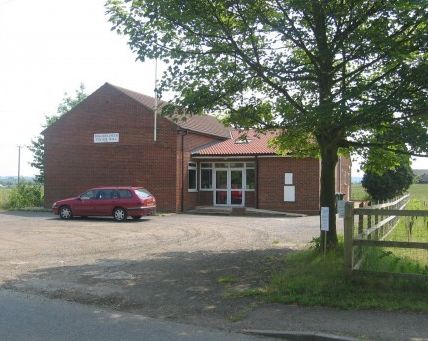 We aim to fully comply with all relevant legislation and safety requirements. Statutory and other inspections are carried out regularly and should there be any recommendations these are acted on promptly.
Moggerhanger Village Hall is one of the village's main community assets. Local organizations and outside functions have made good use which increases year by year. The licensed bar is a very beneficial attraction for which we have our own rota of staff to assist with its running.
Our village hall is an ideal venue for events both large and small.  There is a large entrance hall leading to Ladies/Gents and disabled toilets with baby changing facilities.  The entrance hall also leads to our very well stocked kitchen, all equipment is available to hirers.
Within our main hall there is an excellent bar which is available to hire for functions,  we have our own licensed bar manager who makes sure you have all you require for your event.  There is no extra charge for the bar.
We have enough tables and chairs to seat around 100 people plus some outside chairs for fine weather.  We have recently had a beautiful bamboo floor fitted in the main hall.
Outside we have a large, fenced picnic area and secure parking for around 30 cars,  there is also a large field at the rear of the car park which can be used for larger events.
There is also disabled parking at the front of the village hall.
The village hall has a range of activities including our regular Music Night,  this is held on the first Wednesday of each month and is a free event with a variety of music and, of course, our reasonably priced bar is open.  Doors open 7pm with music starting at 7.30pm—all welcome to listen to the music or bring an instrument and join in.
We also have a regular over 60's Keep Fit group on Tuesday, 2pm—3pm,  first session free then £6 per session—pay as you go.
The village hall is run by a group of volunteer trustees who ensure your hall is up to date with all legal requirements and is always clean and tidy for your use.  We also try to put on events throughout the year.  There is also a group of Friends of Moggerhanger Village Hall who also put on events, including the popular Cabaret Night.
The Friends of St. John the Evangelist Church also put on events in the village hall including the very popular Race Night.
Anyone is welcome to put on an event for the village in the village hall  and the trustees are always more than happy to help out in any way we can.
Any enquiries regarding the village hall please contact the Bookings Officer for booking an event or any of the trustees for additional information.
MOGGERHANGER VILLAGE HALL NEWS
The trustees of Moggerhanger Village Hall are very pleased to report that our two memorial benches,
kindly donated by the Friends of Moggerhanger Village Hall, were set in place in the picnic area.
We hope you will find time to pop in and have a look and remember our two late trustees who are commemorated on them.
Thanks to those who did all the hard work –