FRIENDS OF ST JOHN'S CHURCH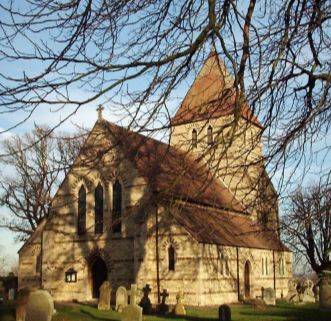 St John's Church, Blunham Road, Moggerhanger, Bedford, MK44 3RD
TRUSTEES
Secretary

Ken Ebbage
Treasurer
01767641485
kenebbage@hotmail.com

Carole Mercer
Alison G Cross
Roger Smith
Carolyn Adams
Sally Marsh
The Friends of St John's Church came into being in 2002. Its supporters are people who are not necessarily churchgoers, but who care about this beautiful little church in the centre of the village of Moggerhanger.
The Friends raise funds to keep the building and the churchyard in good order. Every year we have to spend money to do repairs and maintenance to the building itself and in the churchyard. Work done on the large trees, in particular, has cost thousands of pounds over the last few years.
Funds are raised in two ways. First, we run two social events every year. In the early summer we have a Safari Supper where people from the village meet together for a welcome drink followed by starter and main course at different houses before meeting together for dessert and coffee at the end. A really enjoyable way to raise money.
Second is an autumn event which usually has a theme such as the a James Bond Evening, French Evening and Spanish Evening . And our catering is legendary.
The second method of fund-raising is to appeal to people to subscribe to The Friends of St John's Church. This can be for as little as £1 a month. The annual income from our current list of 'Friends' is £1300 but with a new project on the horizon (to have much-needed toilet facilities inside the church) we could do with more help.
If you would like to become a Friend, please contact our Treasurer Ken Ebbage. He will happily send you a form so that you, too, can join us in helping to preserve the church building and grounds. Click on this link to contact Ken: kenebbage@hotmail.com
SAFARI SUPPER 2018
A perfect summer evening on Saturday 23 June saw fifty-one people walking around in Moggerhanger searching for their supper.
After a welcome drink in Tim and Carolyn's garden, everyone set off to houses around the village where the hosts had prepared starters. An hour later, again people were traveling from one end of the village to the other to their main courses. A different host and a different group of people for all so it was a chance to catch up with old friends and maybe make some new ones.
Then it was back to St John's Church for dessert and coffee. Finally, there were home-made liqueurs, courtesy of Tim & Carolyn, followed by a raffle and the Village Hall Summer 100+ Club Draw.
Ken Ebbage, Treasurer of the Friends, thanked everyone who had contributed in any way to the evening, including the hosts and cooks and everyone who bought a ticket to come. Elizabeth and Karen were each presented with a basket of flowers for helping with the desserts and washing up.
The evening raised a magnificent £809 for the Friends of St John's Church a registered charity which raises funds for the maintenance of the church building and churchyard. Anyone who would like to contribute regularly to the work of the Friends (it can be for as little as £1 a month) is invited to contact Ken.
There is a big project on the horizon – to provide a toilet for the church – so much fund-raising to be done.
Safari Supper 2018